Tampa 2015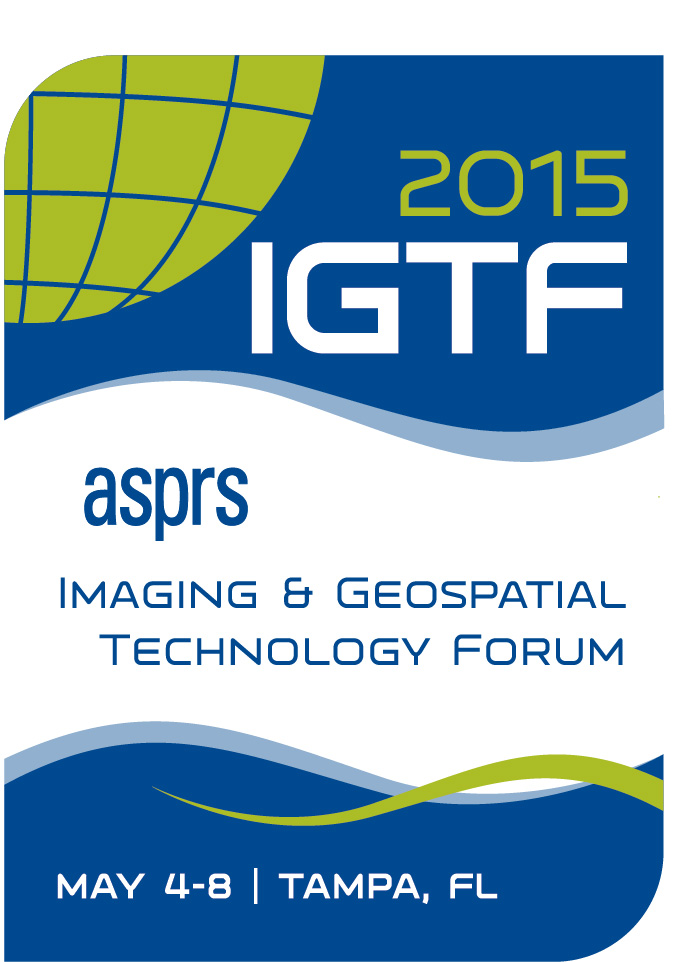 The ALL NEW
ASPRS 2015 Annual Conference
IGTF 2015
Imaging & Geospatial Technology Forum (IGTF)

& co-located JACIE Workshop
Joint Agency Commercial Imagery Evaluation (JACIE) Workshop
Tampa, Florida USA * May 4 - 8, 2015 * Tampa Marriott Waterside Hotel & Marina
The ASPRS Annual Conferences have been RE-designed, RE-imagined and RE-thought with YOU in mind! The NEW Imaging and Geospatial Technology Forum (IGTF) will be held at the Tampa Marriott Waterside Hotel, Tampa, Florida, May 4 - 8, 2015.

We are excited to welcome back the JACIE Workshop to again co-locate with our conference. The JACIE Workshop will be held May 5 - 7, 2015 at the Tampa Marriott Waterside Hotel and will be combining a general session and special technical sessions throughout the week with the ASPRS - IGTF.

Tell Me About IGTF 2015
The ASPRS annual conferences have been renamed to the Imaging & Geospatial Technology Forum (IGTF). This new brand gives ASPRS annual conferences a fresh and recognizable name, something easy and memorable.

The redesign has been created to encompass the broadest terms for our industry, "Imaging" and "Geospatial", while incorporating the idea of "Technology" as the center and reason we all come together. We decided to use the word "Forum" instead of conference because Forum means to assemble or a meeting place for the discussion of questions, promoting open discussion and sharing. And the sharing of ideas and open discussion is the core value for each ASPRS conference. All these elements together formed the new look and feel for ASPRS annual conferences - The Imaging & Geospatial Technology Forum (IGTF 2015).
The all new IGTF 2015 will bring innovative presentations,
dynamic keynote speakers, an exciting Technology Floor,
a new conference layout and MUCH, much more!
About JACIE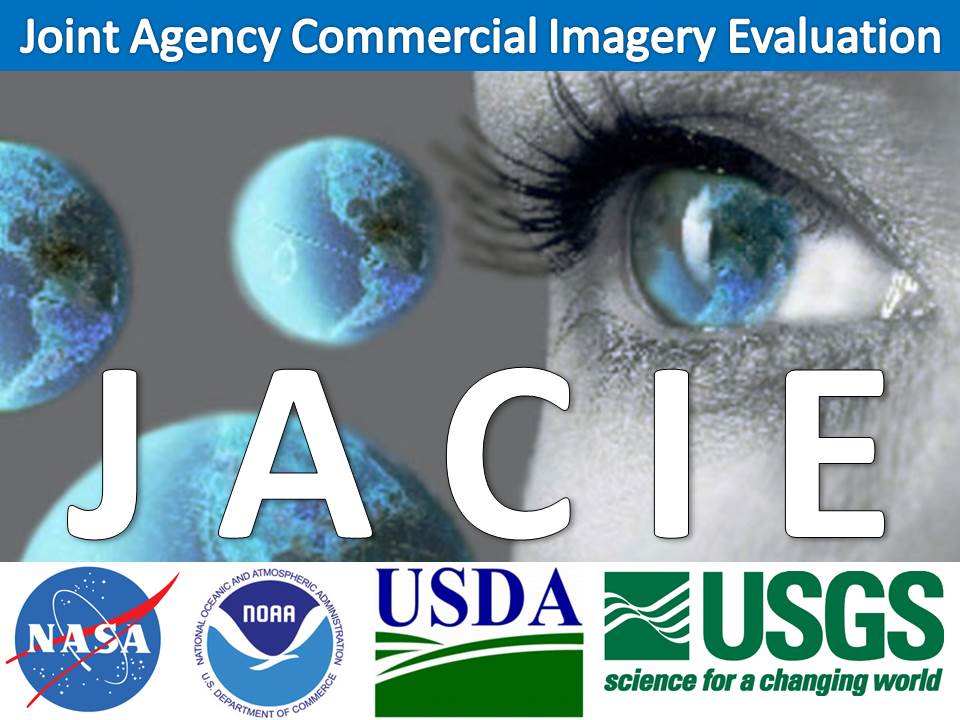 The intent of the JACIE workshop is to exchange information regarding the characterization and application of the commercial imagery used by the government. This workshop is focused on the synergy of high, medium and low resolution imagery and remote sensing technologies used by the Government. This workshop is sponsored by the Joint Agency Commercial Imagery Evaluation (JACIE) team, a collaborative group of representatives from the National Aeronautics and Space Administration (NASA), the National Oceanic and Atmospheric Administration (NOAA) the United States Department of Agriculture (USDA) and the United States Geological Survey (USGS).
Who Attends?
More than 1,000 imaging and geospatial information professionals gather from across the nation and from around the globe for IGTF 2015. And this year, we are expecting a record attendance with the co-location of the JACIE Workshop.
Attendees are mid- and upper-level imaging and geospatial managers from corporations, government agencies, consultants, educators, reseachers, students and field surveyors.
---
Subcategories
Program

IGTF is all NEW for 2015! And we want YOU to know the schedule of new and exciting events.

Below you will find a breakdown of each day of the conference with the scheduled activities. The agenda is a work in progress and will be updated as much as possible until the conference. Click on a day of the week below to see the various events occurring at the conference.

(Last Updated: December 15, 2014)

Monday, May 4 - Pre-Conference Day 1

6:30 am - 3:00 pm Registration Open

7:30 am - 5:30 pm Classified Session
- Buses load at 7:30 am at the Tampa Marriott Waterside Hotel

7:45 am - 5:15 pm Workshops

1:00 pm - 5:00 pm ASPRS Committee Meetings

Tuesday, May 5 - Pre-Conference Day 2

6:30 am - 6:00 pm Registration Open

7:45 am - 5:15 pm Workshops

8:00 am - 6:00 pm ASPRS Committee Meetings

6:00 pm - 9:00 pm Welcome Reception
7:00 pm - ASPRS Awards Presentation at the Welcome Reception
- Reception to be held at an offsite venue - NOT at the Tampa Marriott Waterside Hotel
- Registration will not be available at event, please plan accordingly

Wednesday, May 6 - Conference Day 1

7:00 am - 5:45 pm Registration Open

9:00 am - 10:30 am Plenary Session #1

10:30 am - 7:00 pm Technology Floor Open

10:30 am - 11:00 am Refreshment Break

11:00 am - 12:30 pm Technical Session Timeblock A

12:30 pm - 1:30 pm Exhibitors' Welcome Lunch
- Complimentary lunch included with most registrations.

1:30 pm - 3:00 pm Tecnical Session Timeblock B

3:00 pm - 3:30 pm Refreshment Break

3:30 pm - 5:00 pm Technical Session Timeblock C

5:30 pm - 7:00 pm Exhibitors' Reception
- Included with most registrations

7:30 pm - 9:00 pm Awards Celebration & Dessert Reception


Thursday, May 7 - Conference Day 2

7:00 am - 4:00 pm Registration Open

8:30 am - 10:00 am Technical Session Timeblock D

10:00 am - 3:30 pm Technology Floor Open

10:00 am - 10:30 am Refreshment Break

10:30 am - 12 noon Plenary Session

12 noon - 1:00 pm Lunch with Exhibitors

1:15 pm - 2:45 pm Technical Session Timeblock E

2:45 pm - 3:30 pm Refreshment Break

3:30 pm - 5:00 pm Technical Session Timeblock F

Friday, May 8 - Post-Conference

8:00 am - 12 noon ASPRS Board of Directors Meeting