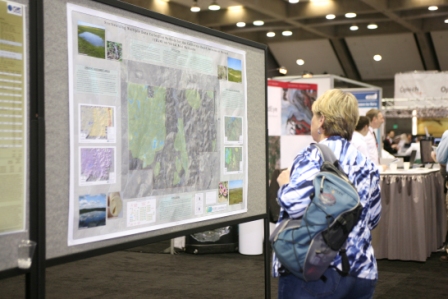 The following information is important for all poster presenters. This information will assist you in planning and preparing for your poster presentation.
Important Points:
April 17, 2015 - Deadline for all Presenters to be registered for the conference or risk being taken out of the Program
April 24, 2015 - Deadline for posters to be submitted for the conference proceedings

NEW for 2015 - Submit your poster as a PDF for the Conference Proceedings!
Poster Presenter Details
All poster presenters will be given the opportunity to display their research visually on the poster presentation boards located on the Technology Floor.
Each presentation should make a unified, coherent statement. Materials, both textual and visual, should be of professional quality and be clearly legible from a distance of four feet (4'). Graphic materials will be displayed on a 4' x 8' poster board supplied by the ASPRS.
Text should be limited to brief statements. Presentations consisting mostly of text are most appropriate as paper presentations.
Posters are displayed for informal browsing with opportunities for individual discussion with poster authors
Including business cards on your poster display is a great idea for people to be able to contact you with questions.
---
Physical Poster Information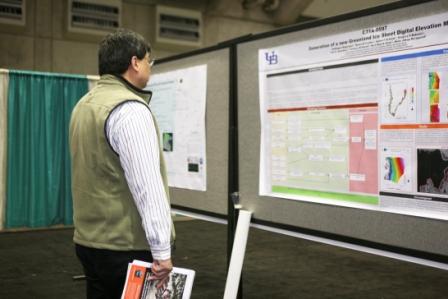 All physical posters will be displayed on the Technology Floor. Each board is 8ft. wide by 4ft. high and Presenters may use all of the space (32 sq. ft.) on one side of the board to mount their materials. See below for a diagram of the poster boards.
Poster Board Diagram - Download the PDF for the poster board dimensions.
Posters may be displayed starting at 7:30 am on Tuesday, May 5, 2015. Poster boards will be numbered and assigned. Each poster presenter will receive their assigned poster in their registration packets onsite. Please also be at or near your physical poster during the following Poster Session times:
Exhibitors' Welcome Lunch on Wednesday, May 6th from 12:30 pm until 1:30 pm
Exhibitors' Reception on Wednesday, May 6th from 5:30 pm until 7:00 pm
During beverage breaks
Lunch on Thursday, May 7th from 12 noon until 1:00 pm
---
Check In On-site
All Presenters are required to check in at the Conference Registration Desk. You will be given your registration materials and asked to initial the Official Final Program next to your name and include either a cell phone number or a hotel room number.
---
Poster Printing

PosterSmith is offering Complimentary wrinkle-resistant fabric posters with complimentary shipping and handling through April 4, 2015 for ALL IGTF 2015 Poster Presenters! This is a fantastic opportunity to try an innovative and new fabric poster. Great for traveling, looks perfect when displayed. Don't miss out on this opportunity. Visit https://postersmith.com/poster/conference/IGTF2015 to order your Fabric Poster today!

After April 4th, attendees can still receive a $15 discount with the coupon code "ASPRS2015". Just visit the custom IGTF 2015 website PosterSmith has created at https://postersmith.com/poster/conference/IGTF2015.
FedEx Office Print & Ship Center
400 N Tampa St, Suite 103
Tampa, FL 33602
1.813.225.2523
ASPRS is not responsible for any poster not delivered or not printed to your satisfaction. This is provided only as a convenience and is not an endorsement or guarantee by ASPRS.
---
Quick Response (QR) Codes
Though not required, ASPRS permits you to create and use QR codes in conjunction with your poster as a method of sharing more information with attendees.
ASPRS will have a smartphone app. for the meeting. In conjunction with the IGTF 2015 app, we will have Quick Response (QR) codes in the Final Program and on several meeting signs. QR codes are two-dimensional bar codes that are intended for rapid decoding of content. Through the use of a QR code reader, these codes can be scanned by smartphone users to secure the encoded information. QR codes can contain URLs, contact information, coordinates, email addresses, phone numbers, SMS messages and even just plain text.
Please visit your Android, Apple or BlackBerry mobile device's application store to find the QR reader for your specific device.
To create a QR code, enter "QR Code Generator" into your search engine to find the right one for you.