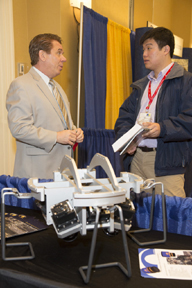 Umanned Aerial Systems (UAS) are a HOT and budding industry and our attendees are extremely interested in the new technology! And the CaGIS/ASPRS 2013 Specialty Conference would like to invite all Unmanned Aerial System manufacturers to exhibit in our New UAS Showcase!
We understand this is a budding industry and mostly comprised of small businesses, so we are here to help. The UAS Showcase is an area within our conference exhibit hall, made-up of non-traditional booth spaces or table-top "booths". The table-tops are brought to you at a lower cost than a traditional booth space and yet you are part of the bustling exhibit hall! It's a great deal.
What do you receive for your table-top exhibit?
One 6-foot-by-30-inch draped table
One chair
Exhibitors' Reception (drink tickets not included)
Two (2) Complimentary exhibit hall registrations with access to the UAV/UAS Special Sessions offered during the Conference
All Exhibit Hall Refreshment Breaks
Exhibitor Listing in Final Program (submitted prior to publication date)
Listing on Conference web site (approx. 60 days prior to event)
Breakfast with Exhibitors
Exhibitor Ribbon
For pricing and more information, download the UAS Contract with the exhibit hall floor plan below and call your Mohanna representative today. Mohanna is the company ASPRS contracts with for exhibit, sponsorship and advertising sales.
Download the UAS Showcase Exhibitor Contract Here
The exhibit hall will be located in the Wyndham San Antonio Riverwalk Hotel in San Antonio, Texas USA. The exhibit hall is limited, so act now to reserve a table-top space. Contact the Mohanna sales team, Brooke King and Kelli Nilsson, today.
Mohanna Team
Phone: (972) 596-8777 x3664
Email: This email address is being protected from spambots. You need JavaScript enabled to view it.