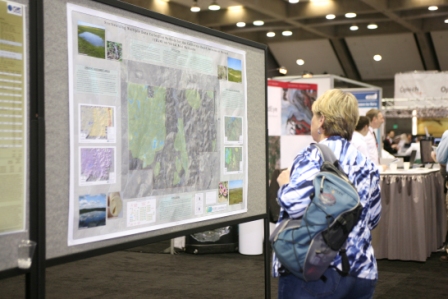 Poster Presenters with Lightening Talks - this information is for you! The following information is important for all poster presenters. This information will assist you in planning and preparing for your oral poster presentation and your physical poster presentation.
Important Points:
January 17, 2014 - Deadline for all Presenters to be registered for the conference or risk being taken out of the Program
February 21, 2014 - Deadline for papers to be submitted for the conference proceedings

March 14, 2014 - Deadline for Poster Presenters to provide their PowerPoint slides to the Poster Presenter Moderator for the Oral Poster Sessions
Poster Presenter Moderators will contact all presenters prior to the Conference
Please submit a valid email address with your poster submission
Download Poster Board Size Diagram
Download Required Copyright Forms
Poster Presenter Details
Back by popular demand, all poster presenters will be given the opportunity to present their poster in an oral technical session format as well as display their research visually on the poster presentation boards.
Each presentation should make a unified, coherent statement. Materials, both textual and visual, should be of professional quality and be clearly legible from a distance of four feet (4'). Graphic materials will be displayed on a 4' x 8' poster board supplied by the ASPRS.
Text should be limited to brief statements. Presentations consisting mostly of text are most appropriate as paper presentations.
Posters are displayed for informal browsing with opportunities for individual discussion with poster authors
Poster Presenter Moderators will be contacting all presenters regarding their assigned presentation time
AV in Oral Poster Presentation rooms will consist of a screen, LCD projector and a podium.
---
Presenter Preparation Room
A room will be available on a first come basis and will be equipped with an LCD projector and screen for any presenter to practice their presentation prior to their scheduled technical session. The location of this room will be announced in the Final Program that will be included with the on-site registration materials you receive when you check in at the ASPRS Registration Desk.
This room is provided as a courtesy to all presenters, please be mindful of your time in the room and other presenters practice time.
---
Oral Poster Presentations
All poster presenters will be giving a short five minute oral presentation in addition to hanging their posters in the poster area. All oral Poster Presentations will be held on Tuesday, March 26th along with the Technical Sessions.
Each presentation room will consist of an LCD projector, screen and podium. The Poster Presenter Moderator will provide one laptop to use for your presentation. Poster Presenters must provide their PowerPoint slides to the Poster Presenter Moderators prior to the conference.
---
Physical Poster Information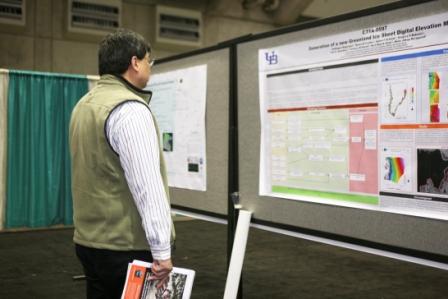 All physical posters will be displayed near the Exhibit Hall. Each board is 8ft. wide by 4ft. high and Presenters may use all of the space (32 sq. ft.) on one side of the board to mount their materials. See below for a diagram of the poster boards.
Poster Board Diagram - Download the PDF for the poster board dimensions.
Posters may be displayed starting at 7:30 am on Tuesday, March 25, 2014. Poster boards are on a first come, first served basis and may NOT be reserved ahead of time. Please also be at or near your physical poster during the Exhibitors' Reception on Tuesday, March 25, 2014 from 5:30 pm until 7:00 pm and during the Poster Reception on Wednesday, March 26, 2014 from 5:00 pm until 6:00 pm.


---
Poster Presentation Displays
Poster Presentation Displays
Posters may be displayed starting at 7:30 am on Tuesday, March 25, 2014
Please be at your physical posters on Tuesday, March 25, 2014 from 5:30 pm until 7:00 pm during the Exhibitors' Reception and during the Poster Reception on Wednesday, March 26, 2014 from 5:00 pm until 6:00 pm.
---
Check In On-site
All Presenters are required to check in at the Conference Registration Desk. You will be given your registration materials and asked to initial the Official Final Program next to your name and include either a cell phone number or a hotel room number.
This information is essential for the moderators to be certain that all presenters have arrived and are prepared to make their presentations.
---
Tips for How to Prepare for Your Oral Presentation
Giving an oral presentation can be intimidating. Below are a few tips for a successful oral presentation.
# 1. Know your material. Pick a topic you are interested in. Know more about it than you include in your presentation. Use humor, personal stories and conversational language – that way you won't easily forget what to say.

# 2. Practice. Practice. Practice! Rehearse out loud with all equipment you plan on using. Revise as necessary. Work to control filler words; Practice, pause and breathe. Practice with a timer and allow time for the unexpected.

# 3. Know the audience. Greet some of the audience members as they arrive. It's easier to speak to a group of friends than to strangers.

# 4. Know the room. Arrive early, walk around the speaking area and practice using the microphone and any visual aids.

# 5. Relax. Begin by addressing the audience. It buys you time and calms your nerves. Pause, smile and count to three before saying anything. ("One one-thousand, two one-thousand, three one-thousand. Pause. Begin.) Transform nervous energy into enthusiasm.

# 6. Visualize yourself giving your speech. Imagine yourself speaking, your voice loud, clear and confident. Visualize the audience clapping – it will boost your confidence.

# 7. Realize that people want you to succeed. Audiences want you to be interesting, stimulating, informative and entertaining. They're rooting for you.

# 8. Don't apologize for any nervousness or problem – the audience probably never noticed it.

# 9. Concentrate on the message – not the medium. Focus your attention away from your own anxieties and concentrate on your message and your audience. At the same time, don't read from your PowerPoint slides. Your visual aids are only aids in your presentation, you should provide more information personally.

# 10. Gain experience. Mainly, your speech should represent you — as an authority and as a person. Experience builds confidence, which is the key to effective speaking. Attend other Technical Sessions prior to your presentation if possible. This will allow you to see how the process works and will give you more confidence.
Tips from ToastMasters International
For any questions regarding the technical sessions, please contact the This email address is being protected from spambots. You need JavaScript enabled to view it..